TRAVEL PHOTOGRAPHY GEAR
As a professional travel photographer, I get a lot of questions about what's the best camera backpack for hauling your photo gear around. These are my favorites, and why.
Let's be honest. Most tourists these days take photos with their smartphones, or maybe a compact travel camera. They don't need a dedicated camera bag.
But what if you travel internationally with a ton of photography equipment like me? Or take your gear hiking?
Multiple cameras, lenses, a drone, etc. Maybe photography is your passion, or you run a YouTube channel, or work as a professional photographer?
You probably want a specialty photography backpack to pack that expensive gear safely and securely. I prefer traveling with a dedicated carry-on friendly camera backpack, and have spent the last few years trying out all kinds of different camera bags.
But what's the best camera backpack for storing and traveling with your photo gear?
There's no easy answer to this question. Different people will have different requirements and budgets for choosing a good camera backpack.
My goal with this camera backpack buyers guide is to help you narrow down the overwhelming choices — and pick the perfect camera backpack so you're prepared for your next trip.
Why listen to me? Experience! I've been traveling around the world for ten years as a professional travel photographer, licensing images to brands like National Geographic.
Here's everything we're going to cover (feel free to click to a specific section if you want to skip around).
Ultimate Camera Backpack Buyer's Guide
Quick Answer: Best Camera Backpacks Of 2021
Best Camera Backpack For Travel
FEATURES: Rear & Side loading, comfortable, durable, lockable zippers.
WEIGHT: 4.5 LBS (2 KG)
CAPACITY: 30-45L
Best Urban Camera Backpack
FEATURES: Top & side loading, comfortable, minimalist.
WEIGHT: 4.65 LBS (2.1 KG)
CAPACITY: 30L
Important Camera Backpack Features
WEIGHT – Obviously you want the lightest camera backpack you can find that's also comfortable, because this will save your body from fatigue. The materials a backpack is made of can also affect its weight, and super light-weight fabrics can increase the price.
SIZE & CAPACITY – Backpack sizes are usually quoted in liters of volume they can hold. Generally, camera backpacks are going to run between 20-40 liters. However some adventure camera backpacks are designed to carry hiking & camping gear too, and can run 45-60 liters.
GEAR PROTECTION – The whole purpose of a specialized camera backpack over a regular bag is to help protect your expensive gear, while making it easily accessible too. Some bags go over the top with too much padding which adds to the overall weight.
SIDE/REAR LOADING – Camera backpacks are usually rear-loading, meaning you need unzip a panel on the back of the bag to access your photo gear. Some camera bags also offer side entry, so you can pull your camera out without taking off your backpack.
STRAP TYPES – A padded waist strap distributes the weight of your backpack on your core, instead of just your shoulders. This helps avoid sore shoulders and back pain, especially when wearing it for long periods of time. Especially handy for camera backpacks.
GEAR POCKETS – This is subjective, and everyone is different, but I prefer a minimal amount of pockets on my camera backpack. Some important ones include a quick-access pocket for things like keys, passport, sunglasses, etc. I also love when there's a laptop pocket, and one for my filtered water bottle.
ZIPPERS – I prefer large, easy to use zippers on a backpack. Bonus points if they're lockable zippers, specifically designed to be secured with a small luggage lock.
PROPER FIT – You could have the best travel backpack available, but if it doesn't fit right, you'll be miserable. Your torso length is more important than your height. Here's a great backpack fitting guide.
LOOKS – Some camera backpacks are built to look like normal backpacks, others scream "there's an expensive camera in here!". I prefer a more subtle & minimalist look, but it's ultimately up to you how important looks are.
WEATHER RESISTANCE – The material a backpack is made of can determine how weather-resistant it is. Some backpacks need a special rain-cover, others have rain-resistance built right in. You don't want your gear getting wet!
CARRY-ON FRIENDLY – Airlines are getting stricter about the size and weight of your carry-on bag. As a general rule, I wouldn't try to bring anything larger than a 40L camera backpack for carry-on luggage to be safe.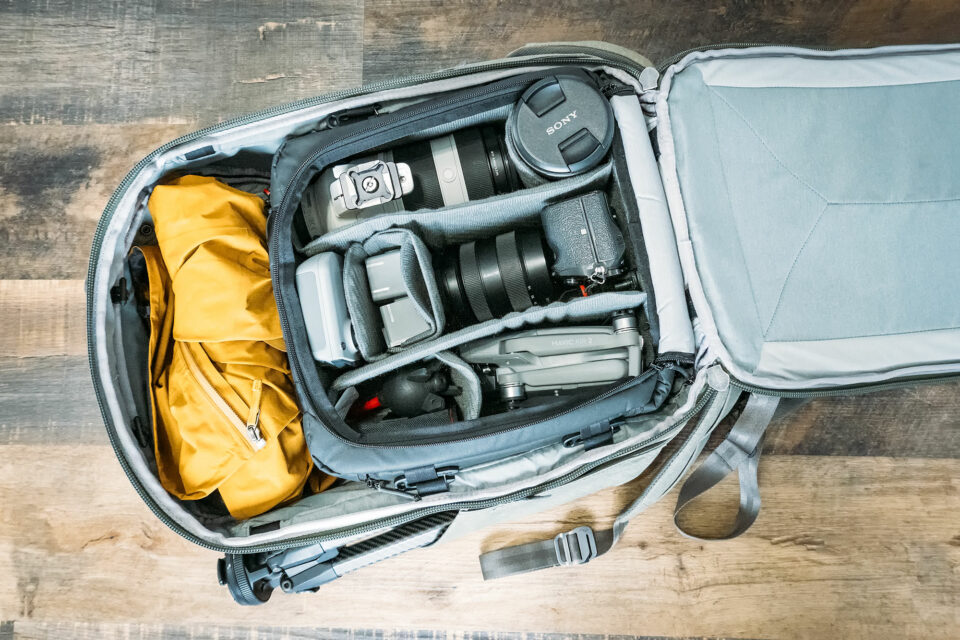 What Kind Of Photographer Are You?
When choosing a camera backpack, it's important to have a general idea about how you plan to use it. Generally, I split photographers up into some different categories.
If you don't lug a ton of photo equipment around, a small discreet camera backpack that you can carry-on an airplane and walk around a city with will do just fine. However, if you're a professional photographer with lot of camera gear, or go on overnight treks with a lot of hiking & camping gear — you might want a larger adventure-style camera backpack.
Travel Photographers
Most typical travel photographers are going to want to keep their camera equipment on the plane with them in a camera backpack that's not too big, and will look good when walking around the streets of Paris or Rome. They might embark on the occasional day hike too, but won't need to fit camping gear inside their bag.
Adventure Photographers
Adventure photographers spend a lot of time shooting in the mountains, deserts, and jungles. Maybe they prefer visiting more remote destinations, and need space in their bag for a sleeping bag and tent. They pack their own multi-day backpacking and camping equipment to survive outside in the backcountry.
The camera backpack you choose from the guide below will depend on what kind of photographer you are (or think you're going to be).
Online Photography Courses
Want to improve your photography? Learning from other photographers is the fastest way.
Top 6 Camera Backpacks For Photographers
Weight: 4.5 LBS (2 KG)
Capacity: 30-45 Liters
Load Range: 20-40 LBS
Colors: Black, Sage
Best For: Travel & Day Hiking
Price: Click Here For Latest Price
The best designed camera backpack I've tested so far, the Peak Design Travel Backpack has loads of space, makes it easy to access your gear, and the quality is fantastic. It was designed as a carry-on travel bag, but works amazing well as a camera backpack too when paired with camera-specific packing cubes (which come in different sizes).
You can adjust the size of the bag from 30L to 45L depending on your travel needs. Backpack straps can all be hidden super fast, which is awesome. Accessing your photo gear is super easy and fast, it's comfortable to carry, and it protects your equipment while traveling or hiking. There's a dedicated laptop pocket too.
Pros
Rear-Loading
Zippered Divider
Lifetime Guarantee!
Side Access
Fast Stow-Away Straps
Cons
Sternum Strap Easy To Lose
EDITOR'S NOTE: One of many camera backpacks I own, but I end up bringing this one with me 75% of the time when traveling or going on a day-hikes with my gear. Comfortable, minimal, stylish, and easy to access all my equipment.
OFFICIAL SUPPLIERS:
---
Weight: 4.65 LBS (2.1 KG)
Capacity: 22-30 Liters
Load Range: 20-40 LBS
Colors: Black, Grey, Blue
Best For: Travel & Day Hiking
Price: Click Here For Latest Price
The Peak Design Everyday Backpack is a popular walk-around camera bag that's great for lugging your camera equipment around cities, for day hikes, or as a carry-on camera backpack. The material looks great but is pretty weather resistant too.
It has three points of entry into the bag. From the top, as well as two side flaps for easy access to your camera gear without needing to remove the backpack completely. The MagLatch system leaves part of the bag open on the sides, because there's no drawstring closure.
Pros
Front-Loading
Zippered Divider
Lifetime Guarantee!
Side Access
Fast Stow-Away Straps
Cons
Sternum Strap Easy To Lose
OFFICIAL SUPPLIERS:
---
Weight: 5.75 LBS (? KG)
Capacity: 35-42 Liters
Load Range: 20-40 LBS
Colors: Black
Best For: Travel & Day Hiking
Price: Click Here For Latest Price
The Peter McKinnon Camera Pack from Nomatic is the perfect bag for every adventure. It allows you to pack camera gear and clothing in the same bag. With removable folding dividers, expansion, and external carry straps it allows you to pack it any way you want.
Pros
Multiple Dividers
Weather Proof
Waist Strap
Good Looking
Cons
Heavier Than Other Bags
Expensive
OFFICIAL SUPPLIERS:
---
Weight: 5.6 LBS (2.5 KG)
Capacity: 30 Liters
Load Range: 30-40 LBS
Colors: Grey
Best For: Outdoor Adventure Photography
Price: Click Here For Latest Price
The LowePro Whistler 350 has been my favorite travel camera backpack for years now! The special TPU coating can take a lot of abuse from the elements, and a large easy-to-use zipper allows you to open the camera compartment quickly, even with gloves on. The newer versions have a laptop pocket too.
It holds a deceptively large amount of gear, and I regularly carry it on airplanes loaded down with 30-40 lbs (don't tell the airlines!). There's a large front pocket to pack your lunch, a jacket, or even avalanche equipment. External gear straps can hold snowshoes, a snowboard, skis, your tripod, or anything you need.
LowePro also makes a larger 450 model, but it's too big for airline carry-on.
Pros
Great Water Resistance
Holds Adventure Gear
Carry-On Friendly
Quick & Easy Access
Cons
No Water Bottle Pocket
Expensive
Heavy
OFFICIAL SUPPLIERS:
---
Weight: 2.2 LBS (1 KG)
Capacity: 45 Liters
Load Range: 30-50 LBS
Colors: Black, Blue
Best For: Outdoor Adventure Photography
Price: Click Here For Latest Price
From day hikes to overnights, the Strohl Mountain Light Backpack was designed by professional photographer Alex Strohl to be lightweight and nimble. Constructed using rugged custom materials, taped seams, and thoughtful external storage.
The backpack is weatherproof and adaptable to any type of mission you can think of. Quick Back panel access and a compact camera unit allow easy camera carry and fast access. It's also the lightest camera backpack in this guide!
Pros
Weather Resistant
Holds Adventure Gear
Removable Camera Insert
Removable Internal Frame
Super Lightweight!
OFFICIAL SUPPLIERS:
---
6. F-Stop Anja – Mountain Series Camera Backpack
Weight: 3.75 LBS (1.7 KG)
Capacity: 40 Liters
Load Range: 30-50 LBS
Colors: Black, Green, Orange
Best For: Outdoor Adventure Photography
Price: Click Here For Latest Price
The rugged and weather proof F-Stop Anja Backpack was created for adventure photographers who need to pack hiking & camping gear along with their photo gear. At 40-liters it's still airline carry-on approved for most airlines too.
It has an internal aluminum frame for support, waist belt, and comfortable shoulder straps. It comes with a Slope Medium ICU for holding a professional DSLR with an attached lens & other gear. However there are other ICU sizes available depending on the amount of gear you need to carry.
Its outer shell is fully water resistant, features plenty of small pockets for extra storage and it is hydration system compatible. There's also a 13″ laptop compartment, quick-access top pocket, and plenty of attachment points for adventure gear like skis or ice axes.
Pros
Weather Resistant
Holds Adventure Gear
Removable Camera Insert
Comfortable
Cons
Expensive
No Water Bottle Pocket
OFFICIAL SUPPLIERS:
---
What's In My Camera Bag?
Take a peek inside my camera bag to learn what I pack with me on my travel photography adventures around the world.
FAQ: Top Camera Backpack Questions
Well, I hope you learned a little bit more about the different kind of travel cameras available, and are able to choose one that fits your budget and needs.
Happy travels, and let me know which camera model you decide to pick for your next vacation! ★
---
Enjoy This Article? Pin It!
---
READ MORE TRAVEL PHOTOGRAPHY TIPS
I hope you enjoyed my guide to the best camera backpacks of 2021! Hopefully you found it useful. Here are a few more photography articles that I recommend you read next:
---
Have any questions about the best camera backpacks? What about other suggestions? Drop me a message in the comments below!
This is a post from The Expert Vagabond adventure blog.